A number of frequently asked questions here at McNabb H.Q. have been "Who is Livia Johnson who sings on four tracks on the new Ian McNabb album? I like her voice and haven't heard of her before. Has she ever performed live with Ian onstage? Also is 'Let The Young Girl Do What She Wants To Do' which she is featured prominantly on, about her?"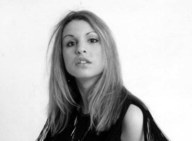 I met Livia about two and a half years ago when I was looking for an individual, sweet sounding but not Diva-type voice to complement a number of songs I was working on. We immediately hit it off but I didn't actually get to hear her sing until we went to Spain soon after to work on songs, and she sang "Like A Prayer" in a karaoke bar! I also got up myself that night and murdered "The Air That I Breathe" which was in far too high a key for me.
Livia is an actress and model as well as a vocalist. She is currently living in London, where the streets are paved with gold and success awaits every turn. She has sung live with me three times, the first time was at Pacific Rd. Arts Centre in Birkenhead in October 2003, the second was at the launch of the 'Best of' in Liverpool in May 2004, and most recently in London in the Spring, on the 'BAOT' dates. All three times we performed 'Finally Getting Over You'. As for the third question, the song is whatever you want it to be about.
If anybody requires Livia's golden tones on a recording or live date, or wishes to see a copy of her CV, please get in touch at ian@ianmcnabb.com.
Click here to see a picture of Livia.
Regards,
Ian.